The fantastic catamaran sailboatl is currently one of the most luxurious catamaran sailboats in Guanacaste, serving Hotels for us in the areas comprised between Las
Catalinas ( Hotel Santarena and Casa Chameleon as well as the rental homes), Sugar Beach, Playa Penca and Prieta, potrero, Flamingo, Conchal, Tamarindo, JW Marriott and Avellanas Beaches.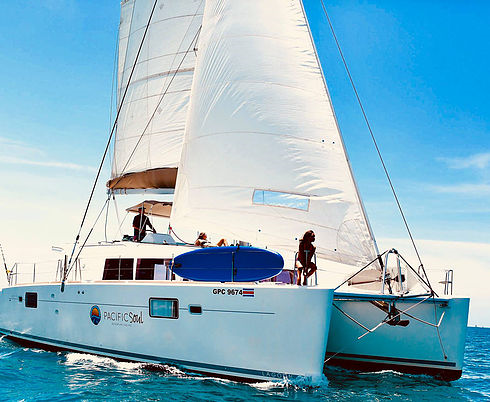 We can offer you the 4 hour morning tour, the private sunset sailing trip from 2 – 6 PM and also the private ¾ of a day 65 hour catamaran sailing adventure and the full day, which goes from 10 – 6 PM.
The trips includecan include a full open Bar and fresh homemade meals included, as well as snorkeling equipment, fishing rods for trolling or fun-fishing and kayaking
and paddle boards!
Each tour also includesdrinks and food ( request more information about this ). We also offer the overnight 2 days and 1 night overnight sailing adventure.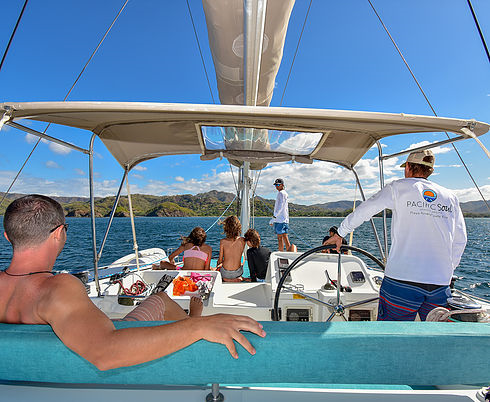 The Soul offer luxurious interiors and comfortable cabins, each with its private bathroom ( toilette and shower ).
So we caneasily explore the Peninsula de Santa Elena, Santa Rosa and Murcielago with this overnight exclusive adventure catamaran sailing tour.

The boat is luxurious, extremely well maintained and spacious, with 4 bedrooms, each with private bathroom and shower, spacious interior saloon with AC and music systema and WIFI, spacious deck space, trampoline and siting area. The boat also offers sufficient shading outside.

Our boat is also equipped with air conditioning, two engines, bluetooth speaker system, full safety gear and more. The tours include snorkelinggear, kayaks, stand up paddle boards, and noodles for floating. Also part of the tour is a 11ft. hard-bottom inflatable outboard motor with no additional fee.