Sailing Kasiiya Papagayo
Private catamaran sailboat charters from Kasiiya Papagayo Boutique Hotel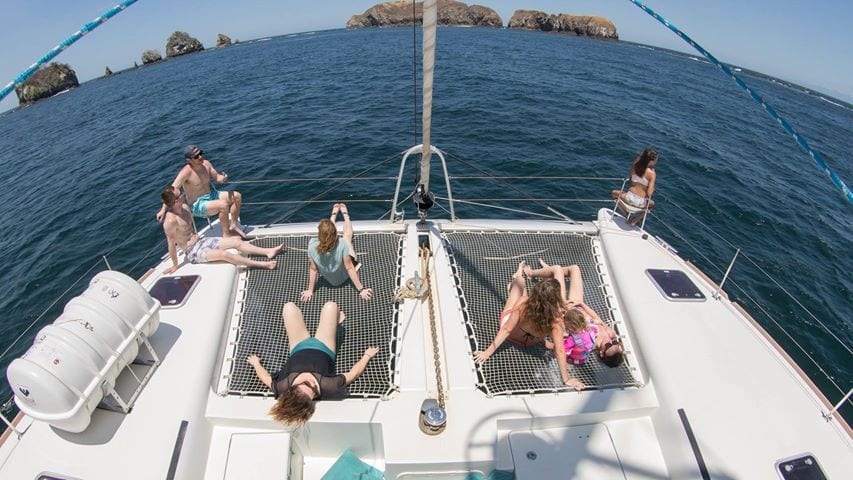 You can now book our private catamaran and sailboat sailing charters with pick up from the beach for clients staying at Kasiiya Papagayo.
We offer different private charter tours, including:
Morning half day charter
The morning tour includes 4 hours of fun and enjoyment of the incredible Guanacaste nature. The charter includes open bar, food items, snorkeling, paddle boarding and visiting a remote secluded beach.
Sunset private charter
The half day sunset tour will give you the chance to observe the sunset from onboard the boat. During the tour, you will snorkel, visit a beautiful pristine secluded beach, paddle board and enjoy the onboard services which include light food and open bar.
Full sail private catamaran sailing tour
The full day private charter departs at 10 AM and returns by 6 pm. During these 8 hours, you will explore a remote secluded beach, a rocky islet or reef to snorkel, paddle boarding and enjoying the beautiful more remote and raw unspoiled parts of the dramatic coast of Guanacaste. A full BBQ lunch is also included. During the tour, services include light food, open bar, snorkeling and paddle boarding.
Kasiiya Papagayo, a fantastic boutique hotel
Simple, rustic but amazingly beautiful and luxurious beach vacations.
Hotel Kasiiya Papagayo is located on the enchanting beach of Playa Matapalito, on the westernmost point of the Punta Gorda Peninsula, in Guanacaste Costa Rica.
This isolated remote and luxurious small boutique hotel offers the guests comfort and amazing services and amenities, and at the same time, it highlights the very essence of Guanacaste. The amazing award winning facility and its 7 unique bungalows blend in perfectly into the tropical dry forest surroundings.