Sailing in Guanacaste Costa Rica is a most for those that love the ocean, the blue skies, or those who wish to snorkel, explore, and discover the more secluded part of the province. We provide you with an excellent fleet of saiboats in Guanacaste and private charters and catamarans serving Guanacaste and the Papagayo Peninsula.
Available sailboats in Guanacaste
We offer a variety of catamaran sailboats and sailing charters for people staying in Guanacaste, from JW Marriott, Avellanas, Tamarindo, Conchal, Flamingo, Potrero, Las Catalinas, Sugar Beach, Riu Guanacaste and Riu Palace, Playas del Coco Beach, Playa Hermosa Beach, Ocotal beach and all of Papagayo, inclusing direct pick up right on the beach for hotels such as Four Seasons Papagayo, El Mangroove, Secrets Papagayo, Allegro and many more hotels. Find out more about the sailing tours we offer in the region. All our catamaran sailboats in Guanacaste are the best of the best, from dedicated service to well kept sailboats and catamarans.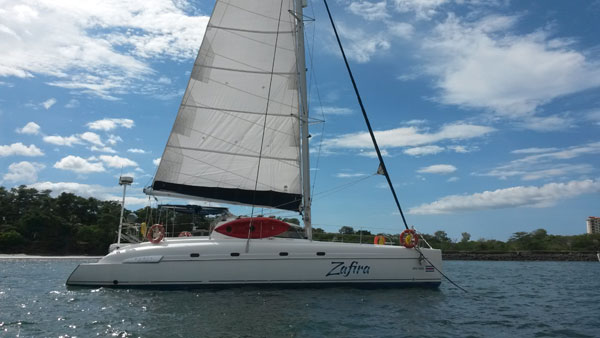 Amazing luxury catamaran sailboat with the best food operating for Tamarindo, Conchal, Flamingo, JW Marriott, Las Catalinas, Sugar Beach and Riu Hotels. Snorkeling included
Pura Vida is the best catamaran available if you are staying in the area of Papagayo, El Coco, Ocotal, Playa Hermosa, Playa Hermosa, Panama, Riu Guanacaste or Riu Palace,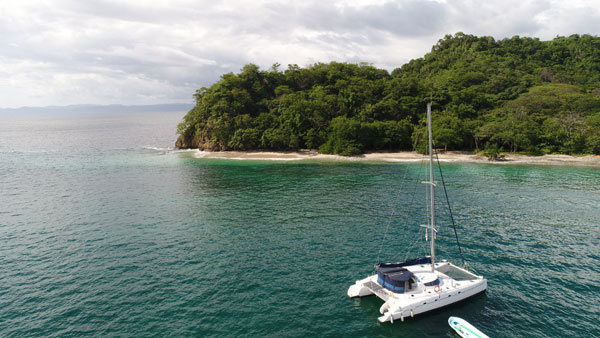 The newest adquisition in our fleet, the Destination Unkown, perfect for private charters as well as overnight expeditions to remote islands, such as the Murcielago Islands
Alma del Pacifico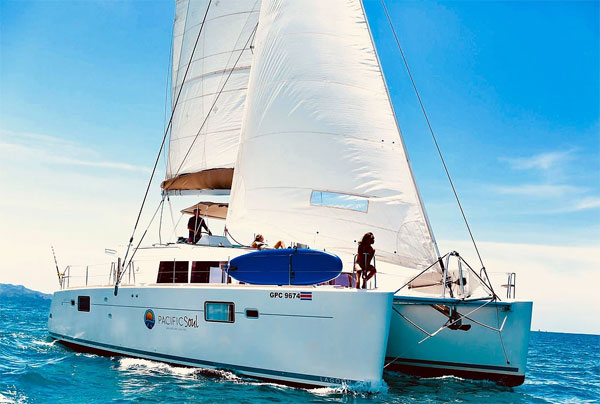 A fantastic and beautiful luxury catamaran sailboat with a capacitiy of carrying up to 45 people. This newest adquisition offers 4 bedrooms, 4 bathrooms,. spacious interior AC saloon and the beest f the best in technology and amenities.
ElMoon Stone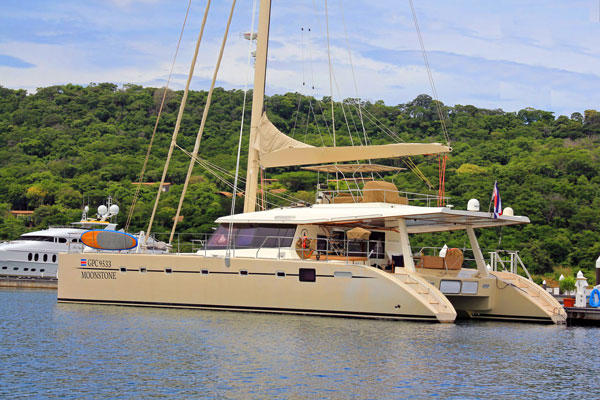 The Moonstone is one of the largest catamaran sailboats in Papagayo. This fantastic luxury sailing machine is also the one the can carry the bigger groups, especially those would do mind sailing in separate sailboats. It is actually the only one of its kind in all of Guanacaste so far, and it has a capacity of carrying a larger group of people in total comfort. This new vessel comes with all the amenities and service onboard for a perfect private sailing charter, whether it is a half day trip in
the morning, a sunset charter in the afternoon-evening of a full day sailing adventure to a secluded and remote beach somewhere along the coast.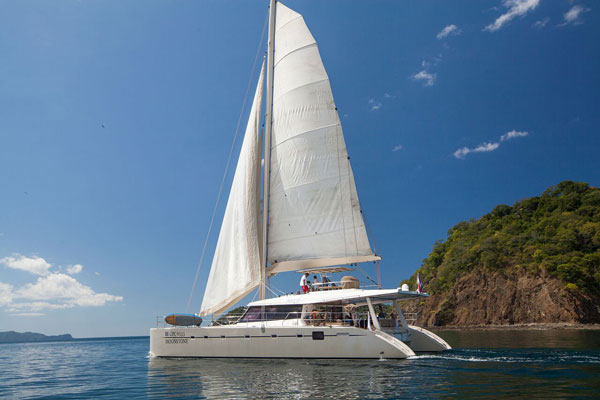 Moonstone is a 62ft Sunreef luxury catamaran. It has a capacity of up to 50 people, and for overnight trips, it can easily accommodate 8 people in 4 double rooms, each with private bathroom. This makes it our first choice in case of larger groups or those overnight sailing cahrters.
ElVali
ElVali is one of our newest catamaran sailboats we sue to serve clients staying in the Papagayo Peninsula and the Gulf. The boat will pick people up from the beach, in case of most hotels which are either on the beach or at a close proximity. The spacious catamaran offers enough amenities and services onboard for a super enjoyable sailing adventure.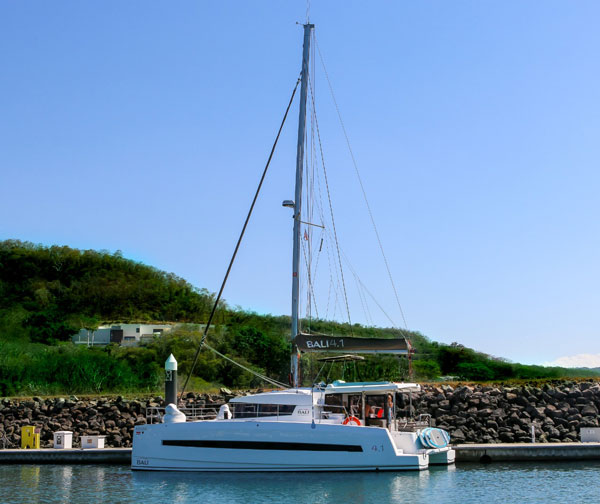 The ideal number of clients the boat can carry is up to ten, and the equipment and modern technology is first class. It includes Coast guard safety equipment.
The Elvali offers 4 cabins with A/C and 2 full bathrooms. The spacious Saloon with A/C is the perfect hideaway in case you want to stay in the shade for a while and cool of from the blue skies and sun. Each trip includes sodas, water, beer ( national brands ) snorkeling gear, stand up paddle boards ( SUP ) and trolling fishing rods. In case of a full day, a A la Carte Menu can be served on board or on
a secluded beach.
The 41-foot fits 30 people easily, and it comes with four spacious bedroom cabins complete with queen size beds ( UP TO 2 PEOPLE ) , four bathrooms and a full kitchen and galley.
This beauty was manufactured in Tunisia and sailed across the Caribbean after until Guanacaste.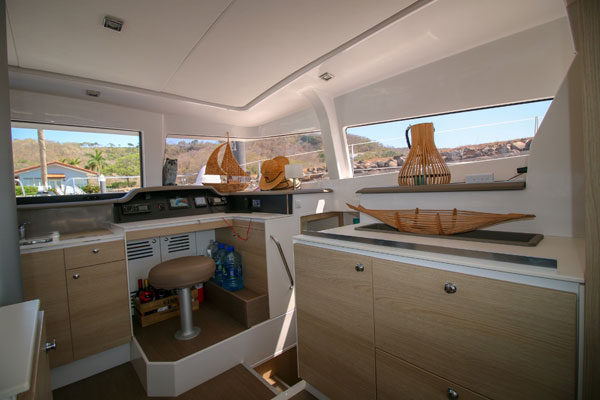 Alistairx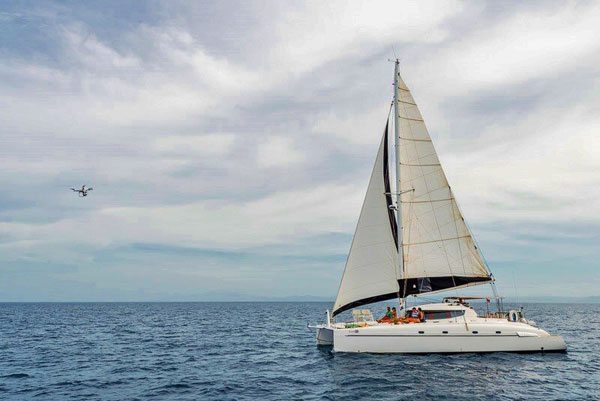 The beautiful ALTAIR X has a length of 46 feet, and powerful twin Diesel Engines ( 54 HP ). This beautiful catamaran sailboat is another jewel we use for our private charters departing from the Papagayo Gulf.
It reaches a speed of 6 knots, each any destination fast in case of absence of wind. The vessel also has the full electronica navigation package, safety equipment, including coast guard contact, 2 bathrooms.
Each of the tours include the captain and one mate. The ideal number of passengers is up to 13, and all the tours include beers, sodas, water, fruit and snacks. Go out and explore the dramatic and rugger rocky coast of Papagayo Peninsula, a place yet undeveloped and raw.
A spacious 60 footer catamaran sailboat ideal for private sailing trips and full day charters for clients staying in Papagayo, Hermosa, El Coco, Ocotal and Riu.
Photos – Morning Menu – Sunset Menu – Full Day Menu – Drinks
El Gran Panasch
The Grand Panashe is a beautiful catamaran that offers private trips from Tamarindo, Conchal and Flamingo. The boat can pick you up from right on the beach. Depending on the location, it has an extra cost.
The catamaran comes with a spacious trampolin, abundant shaded and open space, seating areas, iunterior saloon, galley, four bathrooms and bar.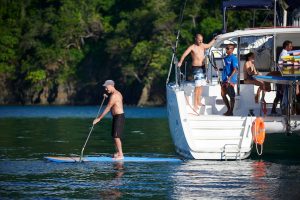 Scheelsea
The Shellsea is a beautiful small 38 ft Fountain Pajot Athena. This enchanting catamaran comes with one bathroom, enough shade, a spacious and comfortable interior cabin and a nice trampoline, which is the best place to sit while sailing through the waters. Tours include snorkeling, food, drinks. Ideal for smaller groups.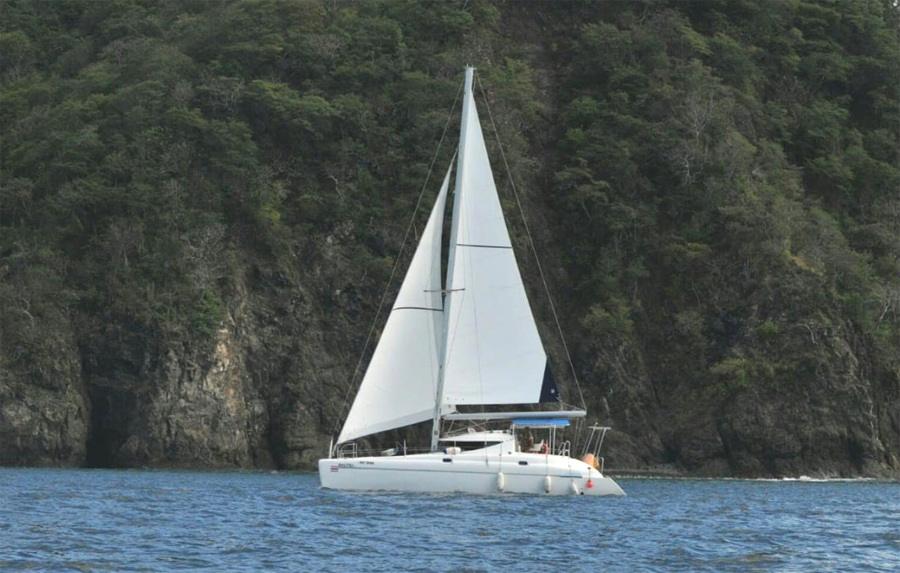 Chaser of Dreams
SEE MORE PHOTOS
The Dream Chaser is a new 40 foot catamaran based in Tamarindo Beach, Guanacaste. We use the boat for sailing trips departing from Conchal, Tamarindo and Flamingo Beach.  The tour includes stand up paddle, snorkeling and delicious food. The boat offers plenty of spacious deck area, which is the favorite place for many. In case people are not fond of sun, there is also plenty of shaded area.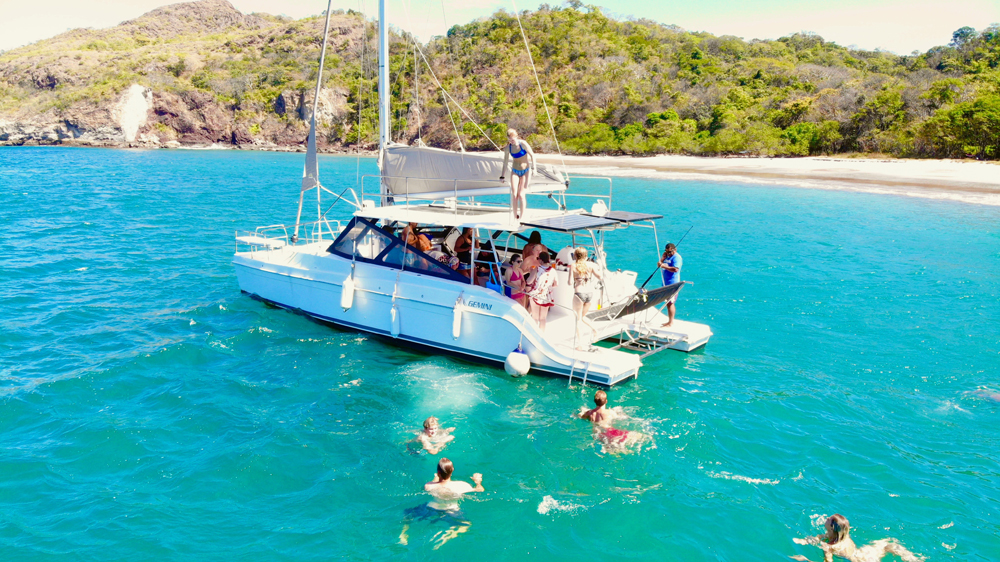 El Mitch
The boat is a 35 feet humter, with a capacity of up to 6 persons and perfect for couples and those looking for a classic half or full day sailing experience in Papagayo.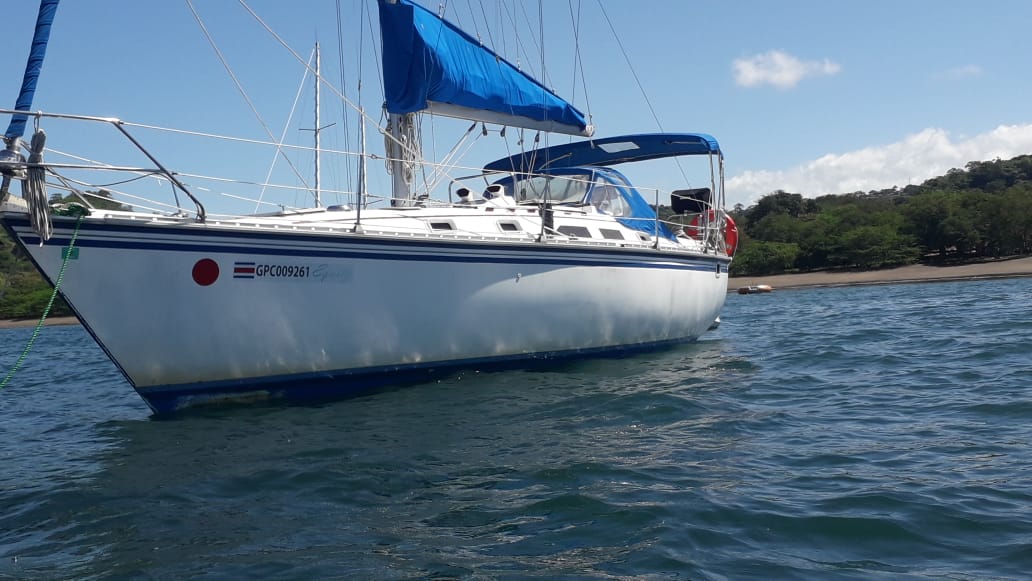 El Play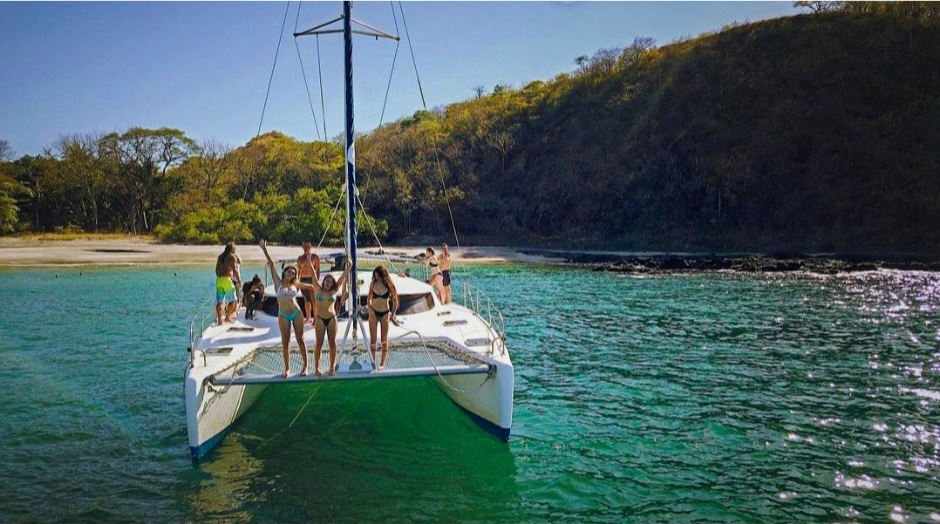 Older catamaran which is one of the few boats that actually leaves from Tamarindo Beach. More info