Private catamaran sailing Langosta Beach
Private Sailing for clients staying at Playa Langosta Beach, in Guanacaste.
Our company Sailing Guanacaste, has been operating private catamaran sailing charters in Guanacaste for over 15 years.

We only operate the best catamarans and sailboats, and we also only offer private charters, no public or open tours.
All our trips include open bar, snacks and meals according to the charter, snorkeling, paddle boards and visiting beautiful pristine and natural sites along the coastline.
Private morning charter
The private morning charter leaves at 8 30 am and returns by 12 30. These four hours of real sailing and nature exploration include sailing to secluded places, swimming in the ocean, snorkeling and paddle boarding near rocky reefs of beautiful beaches.
It also includes music Soundsystem, open bar, fishing rods, food items and a great service oriented crew, knowledgeable and friendly.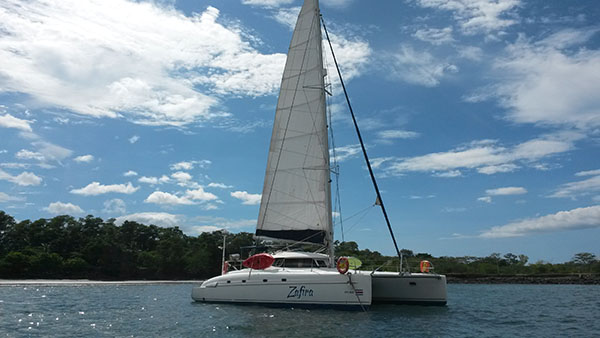 Sunset sailing charter
The sunset sailing charter is the most popular trip from Langosta, because people get to see the sunset from onboard the catamaran.
Like the morning half day, it includes snorkeling near a rocky reef or pinnacles, visiting secluded and beautiful natural sites along the Guanacaste coast, paddle boards, open bar, food and fishing rods for trolling.
Watching the sunset from onboard while enjoying a delicious cocktail is definitely an unforgettable way of experiencing the Guanacaste beauty.
Full Day catamaran sailing charter
The Full Day sailing charter is all about a real ocean sailing adventure. 8 hours of sailing, paddle boarding, getting far away from the civilization to more natural and beautiful places, including coves, bays or beaches.
During these 8 hours you will also be served a full lunch, as well as light food items and great service on behalf of the crew.
Activities included in the Full Day charter include snorkeling, paddle boards, fishing rods, and in some cases kayaks.
Catamaran charters include
– Drinks and meals
– Snorkeling, paddle boards and fishing rods.
– Visit natural, remote and beautiful sites.
– Watching the sunset while enjoying a delicious cocktail onboard.
Characteristics of the tour:
Langosta Beach, adjoining Tamarindo, is a beach where we cannot pick clients up from the beach, because of strong waves and rocky conditions.
Therefore, we depart from the Flamingo Marina, a short drive away, and in case you have transportation, you can transport yourselves to the marina, where there is parking and safety, or we can also add transportation at an extra fee.
Charter includes:
Best catamarans and great crew and service
Open bar and food accordingly
Snorkeling,  paddle boards, fishing rods
Visiting beautiful natural spots in a real private sailing trip
Full BBQ lunch during the Full Day Charters
Langosta Beach
Playa Langosta Beach is located just 5 minutes south of Tamarindo, in Central Guanacaste.
There are several smaller and larger hotels, vacation rentals, villas and luxury residences for rentals.
Like Tamarindo, Langosta is an extremely beautiful beach, with abundant nature and sandy patches mingled into rocky parts, creating a very interesting and beautiful scenery.