The Full Day Private Sailing Charter is the ultimate full day ocean expedition for clients staying in Papagayo, Tamarindo, Conchal, JW Marriott, Playa Hermosa or any other beach in Guanacaste. This tour will take you ona 10 hour long sailing and nature tours along the coast of Guanacaste.
Join us for a 8 hour catamaran or sailing expedition which will take you away from the coast, with the intend to show you the raw dramatic nature of Guanacaste´s coast.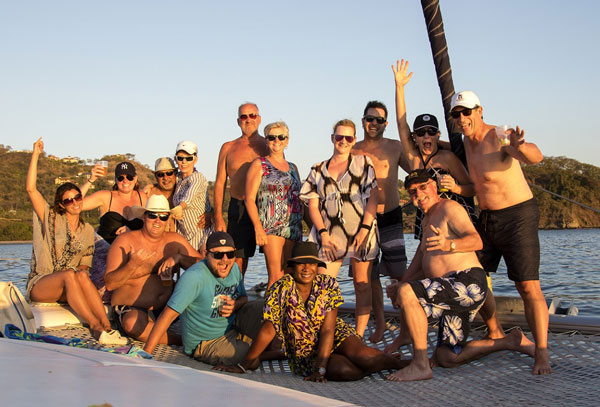 We will be picking you up on the beach at the hotel and then sail out into the
Pacific Ocean. During the tour you will enjoy limitless drinks, sodas, fresh juice,
national alcoholic drinks, fresh cut fruit and snacks.
Be ready to perhaps spot some wildlife species, including sea turtle species,
dolphins, whales, jumping fish, birds and more. The whale season also affects
Guanacaste´s coastline, especially the Humpbacks, so you might encounter some
during the tour.

The tour will also stop near a remote rocky pinnacle which is the perfect place for a
snorkeling session. The abundance of colorful tropical fish is amazing. Snorkeling in Guanacaste in general is quite awesome. While the visibility might not be as good as in some other places on Earth, the encounter with species ( including eels, rays and colorful fish is pretty incredible )
A full day sailing adventure
We call the full day sailing tour the all in one ocean adventure, since our clients really enjoy not just sailing along the coast or under the blue skies, but the adventure also includes all the other iconic activities Guanacaste is famous for. Besides, for those who are comfortable at the hotels and resorts but rather wish to leave the hustle for a while it is the perfect getaway. Contrary to what it looks like, Guanacaste does still have endless distances of rugged and raw natural coastline with empty and remote natural beaches.
After snorkeling we will head to a secluded and undeveloped beach outside the
commercial area, where you will have the chance to enjoy the beach, the sand, the
warm tropical water, ( stand up paddling and ocean kayaking also included depending on the boat ).This is where you will also enjoy the delicious BBQ lunch right on the beach.
All tours are customized, so in case you contact us in advance, let us know what your main interest is and we will design the tour accordingly.

After hours on the beach, or some more sailing and snorkeling, you will be heading
back to the hotel, while watching the amazing colors of the sunset. The estimated
arrival time at the hotel is 6 PM.

The tour includes: Delicious BBQ lunch on a secluded beach, Drinks, Fruits, snacks, chips, snorkeling with a guide somewhere special, and stand up paddling and ocean kayaking (depends on the boat)