Playa Hermosa Beach, Guanacaste
Playa Hermosa, in the canton of Carrillo, Guanacaste is one of the most popular beaches for beach vacations in the province.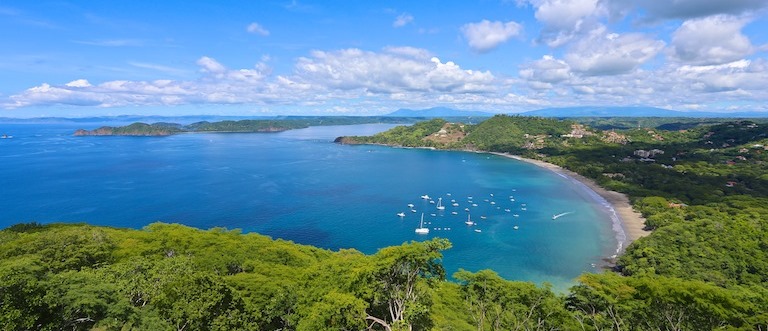 One of the reasons is its proximity and good access (the roads are excellent) as well as its soft waves, gentle sea and its many lodging options.
Ideal vacation for families
Because of all these ideal conditions, Playa Hermosa is one of the favorite beaches for families, who are looking for a beach with conditions for swimming in the sea, snorkeling at both ends of the beach, where there are volcanic rock formations and good visibility, ideal for snorkeling and to see plenty of coral fish, sea urchins, starfish, eels, and many species of fish, in healthy and large populations.
Along the sandy beach, there are also restaurants, one of the best known being Acqua Sport, which is located right in front of the sea.
Hotels in Hermosa Beach
In Hermosa there are several lodging options, among them several beachfront hotels, such as La Gaviota Tropical, Playa Hermosa Bosque del Mar, El Velero, as well as other hotels located on top of the hills, such as Condovac and Villas Sol Playa Hermosa.
Rental Homes
As for rental houses and luxury villas, there are many of these lodging options as well. Most of them are located on top of the hills, offering the renter a breathtaking panoramic view, in the middle of hills still with plenty of dry tropical vegetation.
Tours in Playa Hermosa
On the beach there are also a lot of activities and tours available, among them sailing tours, catamaran tours, boat tours or luxury yachts, jet skies, paddle boards and many more.