Overnight sailing trips from Guanacaste ( Flamingo, Conchal, Tamarindo and Papagayo ) to other destinations in the Nicoya peninsula including Nosara, Samara, Punta Islita, Mal Pais, Santa Teresa, Montezuma and Tambor.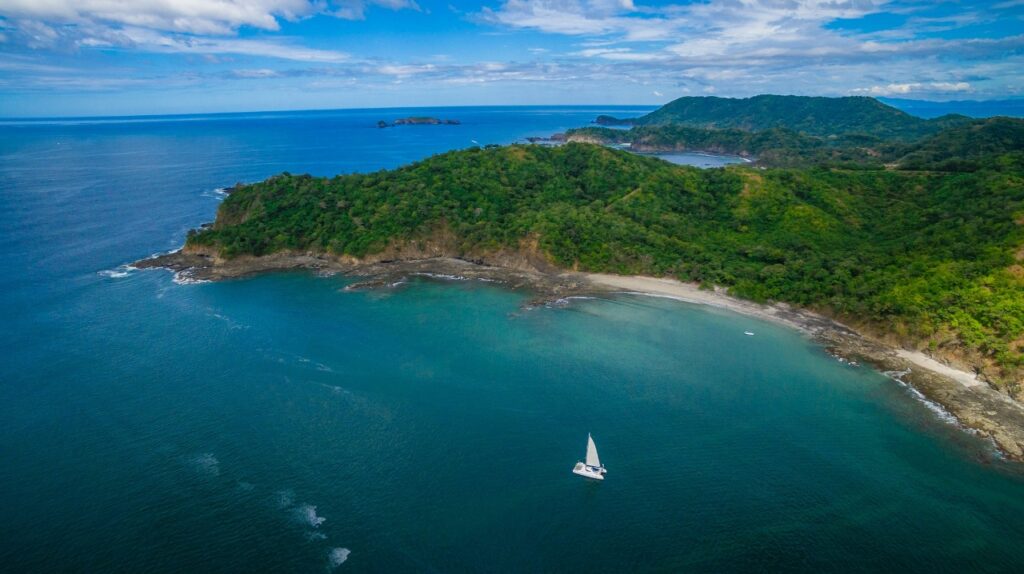 If you are looking for a true private sailing charter experience aboard a beautiful catamaran or a classic sailboat, we have several options of multi-day routes that we offer.
Some of the private sailing routes are:
Sail from Conchal to Nosara and then Santa Teresa or Mal Pais.
Sail from Flamingo to Nosara or Samara and then Santa Teresa or Mal Pais.
Private tour from Papagayo to Santa Teresa or Mal Pais with strategic stops in Nosara or Samara.
The multi-day tours on our catamarans or sailboats include first class meals, sleeping for up to 8 people in 4 cabins each with private bathroom and shower and many activities, from water toys to exploring pristine beaches and bays along the way.
Some of the destinations we can visit on the route to Santa Teresa and Mal Pais are:

Nosara: A natural and different region where there is plenty of good surfing, Yoga, nature and although there is hotel development, it is of a more sustainable nature, with smaller hotels. In Nosara there are beautiful beaches.
Isla Rosada: A fantastic virgin island near Playa Garza where snorkeling is great. You can leave the sailboat or catamaran and explore the island with Stand Up Paddle Board.
Other beaches along the way: On the way you pass beautiful natural beaches, some world famous for surfing, including Playa Negra, Playa Real, Playa Minas, Avellanas, Callejones, Marbella, Punta Islita, Barrigona, Barco Quebrado, Hermosa, Coyote and many more.
If you want a unique and unforgettable experience, where you will discover practically the entire coast from North Central Guanacaste to the southernmost part of the Nicoya Peninsula, this tour is ideal.
Some recommended routes:
Private 2 day sailing charter tour Flamingo/Conchal/Tamarindo to Nosara and finish in Santa Teresa/Mal Pais.
Private 3 day sailing charter tour Flamingo/Conchal/Tamarindo to Nosara and finish in Santa Teresa/Mal Pais.
Departures for sailing to Santa Teresa / Mal Pais: Flamingo, Conchal, Tamarindo, Papagayo, Las Catalinas