Catamaran Sailing from Tamarindo
The El Play is a 38 footer catamaran, a Fountain Pajot, which serves Tamarindo Beach. It is among the few coats who actually sail from Tamarindo.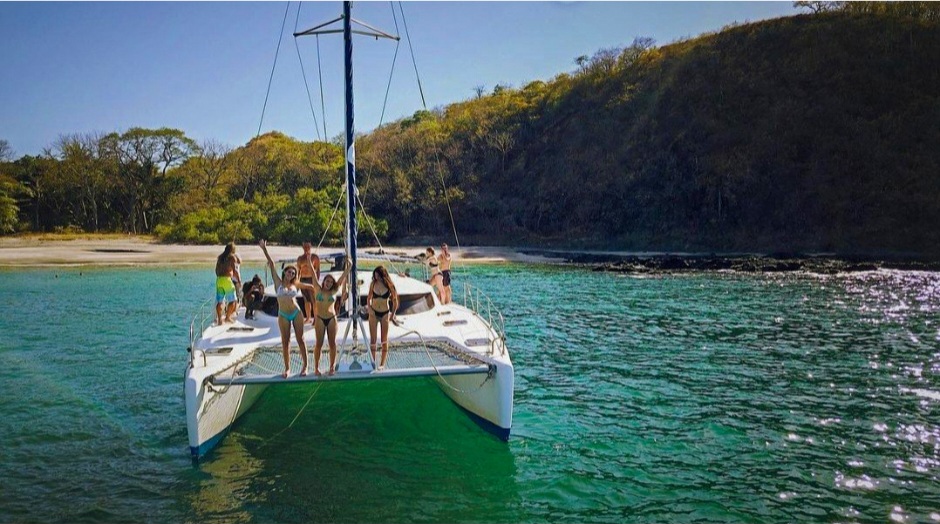 It is not the newest catamaran, but the service and crew make each trip memorable.
The catamaran has 2 sails and 2 engines, as well as an interior saloon and two bathrooms for the use f our clients.
There is a trampolin, shaded deck area and abundant seating spots on deck.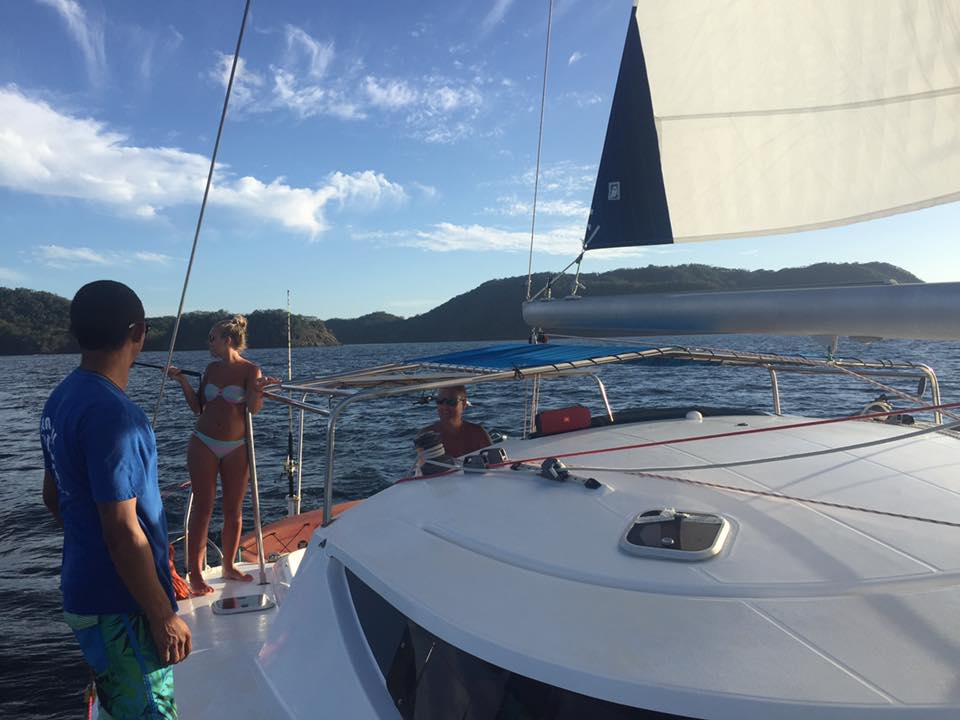 Rates
We offer 3 private tour options ,in the morning from 8 am to 12 pm, sunset tours from 1 pm to 6 pm and all day tours from 10 am to 6 pm.
Private tour in the morning
Base price $1100 up to 8 passengers,
Each extra person will pay $70
Children $50.
Private Sunset Tour
Base price $1200 up to 8 passengers
Extra $80
Children $60
Full day private tour 
Base price $1,600 up to 8 passengers
Extra $95
Children $80
Groups by age
Infants Free pass (0 years to 5 years)
Children (from 6 years to 12 years)
Adults (from 13 years to 99+)
All of our tours take place in and from Tamarindo. The private tour in the morning has 1 hour to stop at the beach where you can do water activities, you can go to the beach, we will also serve breakfast before returning.
The private tour in the afternoon will have 1 hour and 30 minutes to enjoy the beach, do water activities and have lunch. For these 2 options we visit playa huevo or playa conejo as decided by the captain, these are located in punta conejo cabo velas.
The all-day tour includes 2 stops at beaches such as Playa Conchal, Playa Conejo, Playa Huevo or Playa Bahía de los Piratas or if the client wishes, they can visit the Catalinas Islands for snorkeling and then visit a nearby beach.
Visits to the aforementioned beaches are subject to the decision of the captain in charge since the state of the weather, waves and wind must be taken into account.
 Our services include
-Tico Breakfast (for Morning tour only)
-All-inclusive open bar (national beers ,rum, vodka, tequila, cacique, gin, drinks, cocktails, wine, soda, soft drinks, cold tea, orange juice and bottled water)
-Lunch to choose(rice and chicken or rice and shrimps)(for sunset and full day tours) Vegan and vegetarian options available.
-Fruits and snacks during the tour.
-Stereo with bluetooth
– snorkeling Equipment
-1 kayak and 1 paddle board