Flamingo Beach, Costa Rica
Half Day Morning
We leave early in the morning, leaving the coast behind as we sail away from Flamingo Beach.
We expect a 4 hour trip with lots of fun, nature and unforgettable landscapes. Our service includes abundant onboard drinks like beer, rum, vodka, juice, soft drinks, chips with dips, (burritos or sandwiches), fresh fruit and plenty of bottled water.
The captain and our guide will be at your service all the time. The tour includes stops at deserted beaches to explore marine life by snorkeling, swimming in the sea, sea kayaking or SUP.
Starts early around 8 am and the tour returns around noon. Includes transfers from the hotel and back. A super fun prívate tour perfect for groups or larger families.
Flamingo Sunset Tour
This trip is perfect for a romantic wedding trip or a group of friends !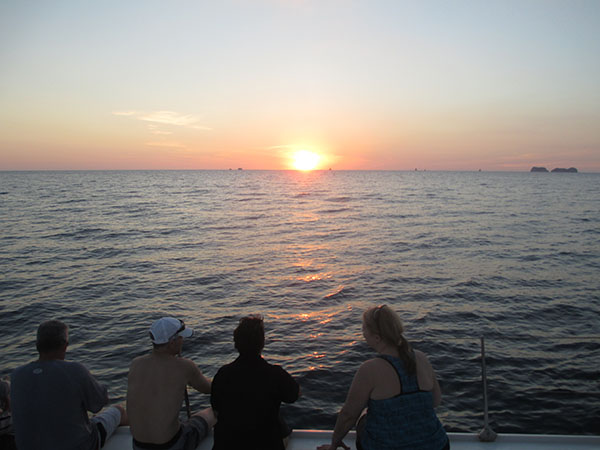 If you enjoy spectacular sunsets from the open ocean, this trip will give you that and much more.
With departures at around 1 30 PM, just after lunch, our boat and crew will take you for a scenic trip along the rugged coast, with plenty of small white sand beaches, rockys and reefs.
The trip includes a stop at a secret spot, where we will snorkel in the clear waters ( gear included ).
If you like kayaking, we can include sea kayaks as well, even paddle boards ( please advice in advance ).
The comfort onboard will provide you with a comfortable journey, with spacious deck space, seating areas, inboard salon, chart table, bathrooms and showers.
Trip includes snacks, fruit, drinks ( request more info on that if needed ). After we will watch the sun go down in the horizon, we will return. Arrival back at around 6 PM
Full Day private sailing
The perfect explorer tour if you are staying at a beach hotel but want to see more of the vast coast of beautiful Guanacaste.
The tour includes abundant amenities and services onboard.
Food includes abundant fresh fruit, snacks, like chips and dips, burritos, abundant drinks like beer, liquors, sodas, fruit juices.
The boat is equipped with fresh water showers, bathrooms, inboard salon, abundant and sufficient seating and shaded areas, spacious deck areas.
The trip can be customized, including snorkeling, ocean kayaking, paddle boarding, even scuba diving, if the group wants it, with extra charge.
Some destinations include Murcielago Islands, Catalina Islands, secluded beaches, secret coves and bays. Lunch is also included in the full day tour.
Duration approximately 9 – 10 hours.
Flamingo Beach is situated North of Tamarindo Bay and South of Papagayo.
Out of Flamingo we operate private sailing charters to different locations, including different activities, depending on the clients desire.
Sail out of the former Flamingo Marina and head to the open Pacific Ocean.
Our tours include sailing along the coast, around islets or heading to private secluded beaches.
Snorkeling is also part of the adventure. Enjoy sea kayaking, or do some fishing while sailing.
The onboard menu includes drinks, beer, liquors, snacks, or full lunch for longer trips. 4 hour trips, full day 8 – 9 hour tours and even overnight tours.
Scuba Diving can also be arranged with an extra charge.
Tour details
Price: From 00 U$
Contact us for a quote
PLEASE INDICATE THE NAME OF THE HOTEL or BEACH you wold like to get picked up since RATES and DETAILS change a little bit depending on that information.
Hotels:
Flamingo Beach Resort
Margaritaville Beach Resort
The Palms Flamingo
Flamingo Marina
all hotels and rentals ( Pick up included )
Included:
Snorkeling gear, drinks ( alcoholic beverages and liquors, beersm, sodas, juice, water ), snacks ( chips and dips, sandwiches, other snacks, fresh cut fruit ), free use of kayaks or paddle boards ( please inquire before !!!! )
The full day private tour also includes a full BBQ LUNCH on a secluded beach. Depending on the boat, it also includes Chicken Brochettes, Rice Salad, even Shrimps.
Departures:
Daily departures. Please advice a few days in advance the latest. During the High Season advanced reservations are suggested ( not required )
Morning Departure: 8 – 12 Noon
Sunset Sailing: 2 – 6 PM
Full Day: 10 – 6 PM