Private catamaran sailing charters from Conchal
Our company offers the best private sailing from Conchal, in Central Guanacaste. Our fleet of catamarans and sailboats is a top selection of the best sailboats, catamarans and luxury yachts, and our captains and fleet have been rated excellent over the past years.
Half Day Morning
Leave beautiful Conchal beach behind and start this fun morning adventure trip.
Sail along the beautiful coast in this area. South of Conchal are the pristine beaches of Minas, Real and Pelicano, pristine and natural beaches.
Puerto Viejo de Conchal has many rocky pinnacles and small coves, a beautiful landscape.
Enjoy snorkeling in secret spot, near islets, rocks and secluded coastline.
The trip includes snorkeling gear in all sizes, ocean kayaks for those that wish to jump in the eater and explore the ocean, even paddle boards ( included but need to be requested ). The boat crew will serve delicious snacks, abundant drinks, water, fruit juices, sodas, alcoholic drinks and cocktails.
Suggested departure 8 AM and return around noon. Pick up included, please request hotels where we pick up.
Sunset Tour
This 4 hour afternoon tour will take you sailing along the coast and to the open Pacific Ocean.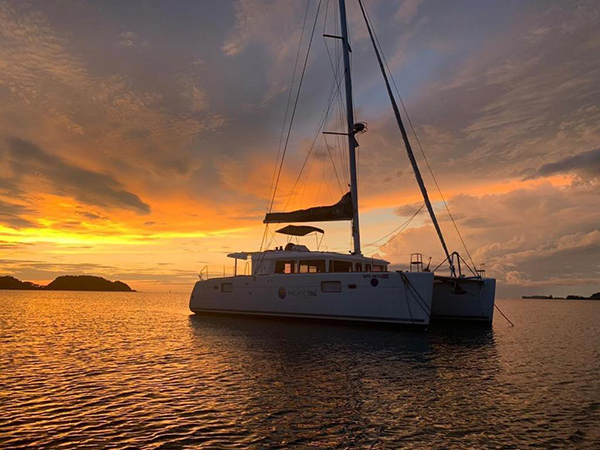 Onboard food and amenities include snorkeling gear and instructions, free use of kayaks and fishing poles.
As far as food and drinks, appetizers including chicken fajitas, arroz con pollo (a salad, incredible chips & salsa, fresh fruit plate, vegetables & dip and banana cake.
Endless drinks at the onboard bar with juices, sodas, beer, white rum, guaro, vodka and bottled water.
A fun half day trip with stops at secret coves and islets for snorkeling, swimming and kayaking.
The final goal, watching the colors of the majestic sunsets while the sun sets in the horizon.
Daily departures. Please advice in advance. Larger groups can also be booked.
Different boat sizes are available. Suggested departure 1 30 pm and return after sunset. Transport from and back to the hotel included.
Full Day Sailing
Our full day private sailing tour departs from Conchal.
We will pick you up at the hotel. You can choose from different available boats, depending on the group size.
There are sailboats with capacities from 25 people up to 75. We can also arrange two or more boats sailing out together if the group is even larger.
Catamaran Sailboat

Private sailing Coinchal Guanacaste

SUP

Private charters from Conchal

Full Day

Sea Turtles
All the trips include abundant onboard amenities and services.
The boats are well kept, comfortable with sufficient seating areas, both on deck as well as inside, in the large salon with chart table and indoor bathrooms and freshwater showers.
Food includes lunch, snacks, chips, dips, burritos or sandwiches, beer, sodas, water, alcoholic drinks and cocktails, fresh fruit of the area.
Activities include visiting secluded beaches, anchoring near rocky pinnacles and reefs for snorkeling, kayaking or paddle boarding. Suggested departure 8 AM and return after sunset.
Imagine… depart early in the morning and sail away from the beautiful coast of Flamingo Beach. Watch as you get further and further away from Conchal Beach, Potrero Bay…
Explore the marine wildlife, snorkel in pristine sites, enjoy some fishing, go kayaking or paddle boarding, or simply enjoy the sightseeing, sunsets, the blue Pacific Ocean.
Four hours private trips and full day tours available daily. Including hotels like Flamingo Beach, Westin Conchal, Bahia del Sol, Sugar Beach and many more.
Conchal Beach
Conchal Beach in Guanacaste is a beautiful white sand beach, which has the particularity of having millions of shaped rounded pieces of white shells instead of find sand.
This particularity makes it one of the beaches with the best visibility for snorkeling, and it is frequent to admire blue waters and cristal clear water visibility.
The resorts in Conchal 
There are several hotels in Conchal, including the W Conchal Hotel and the Westin Conchal.
These luxury resorts are situated amid a private tropical dry forest reserve, which enhances the scenery a lot and provides with lots of tropical wildlife.
Tour details
Price: From 00 U$ INQUIRE FOR DEALS
Contact us for a quote
PLEASE INDICATE THE NAME OF THE HOTEL or BEACH you wold like to get picked up since RATES and DETAILS change a little bit depending on that information.
Hotels
Westin Conchal 
Reserva Conchal
All other hotels in the area
Included:
Snorkeling gear, fishing rods, drinks ( alcoholic beverages and liquors, beersm, sodas, juice, water ), snacks ( chips and dips, sandwiches, other snacks, fresh cut fruit ), free use of kayaks or paddle boards ( please inquire before !!!! ) The full day private tour also includes a full BBQ LUNCH on a secluded beach. Depending on the boat, it also includes Chicken Brochettes, Rice Salad, even Shrimps.
Departures:
Daily departures. Please advice a few days in advance the latest. During the High Season advanced reservations are suggested ( not required )
Morning Departure: 8 – 12 Noon
Sunset Sailing: 2 – 6 PM
Full Day: 10 – 6 PM