Sailing Guanacaste offers private sailing charters and catamaran trips from both El Coco and Ocotal Beach, two adjoining beaches in northern Guanacaste.
Half Day Morning
Silently sail away from the beach as you commence to explore the abrupt, dramatic and beautiful coast of Guanacaste. Read more about El Coco and  Ocotal Beach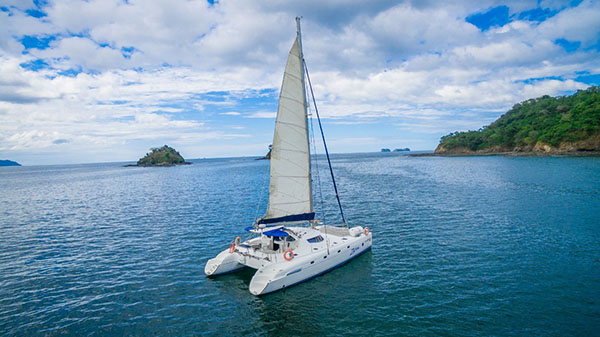 Rocky pinnacles, Pelicans flying over you, blue skies, impressive landscapes and scenery.
After a while of sailing we will stop at a secluded beach, the perfect spot for snorkeling.
If you want, you can also start ocean kayaking or paddle boarding ( please specify when booking ).
The tour includes snacks, chips, fresh fruit, alcoholic beverages, beer, sodas, fruit juice, and bottled water.
The friendly staff and captain will start the journey home after you have enjoyed enough sunbathing, swimming or relaxing either onboard or on the beach. Return around noon.
Sunset Tour
The perfect trip. With departures around1:30 and pick up included at your hotel, this tour will take you out into the blue Ocean.
Enjoy occasional whale watching ( humpback whales when season ); as well as dolphins.
Rest on the deck simply enjoying a beer, or cocktail, or sit inside the salon.
We will anchor near a beautiful beach with plenty of rocky pinnacles and reefs, perfect for snorkeling.
You can also practice some paddle boarding SUP, or ocean kayaking ( part of the equipment.
Fresh fruit, snacks, drinks, bottled water, beer, sodas, juice and alcoholic beverages included in the price.
Finalize the trip enjoying the amazing sunset, with its orange, pink and red colors. Departure around 1:30 and return around 6 pm.
Full Day
Explore the marine beauty of Guanacaste.
With departures as early as 10 AM, our boat will take you far off the beach and coast.
Explore natural and unspoiled beaches, snorkel in crystal clear waters, enjoy the superb snacks, lunch, drinks or fruit onboard, or simply relax on the deck while enjoying the sun, breeze and blue skies.
For the more active guests, go for some paddle boarding, ocean kayaking or some more snorkeling.
Jump into the ocean and refresh yourself after being on the sun. We offer catamaran sailboats and sailboats with a capacity from 25 people to up to 75 people, or we can arrange and have arranged several boats for larger groups.
We operate half day charters and full day trips leaving from any hotel in the area between El Coco ( Playas del Coco ) and Ocotal, including Playa Hermosa and Matapalo ( Riu Guanacaste and Riu Palace ) .
Hotels and resorts we work with include Ocotal Beach resort, Bahia Pez Vela, Playa Hermosa Bosque del Mar, Condovac, Villas Sol and other hotels.
If the hotel is located on the beach or near the ocean, we pick people up by sea, if not, we can include a private transfer for the party from the hotel and back to the hotel from the departure point.
Tour details
Price: From 750 U$
Contact us for a quote
PLEASE INDICATE THE NAME OF THE HOTEL or BEACH you wold like to get picked up since RATES and DETAILS change a little bit depending on that information.
Included:
Snorkeling gear, drinks ( alcoholic beverages and liquors, beersm, sodas, juice, water ), snacks ( chips and dips, sandwiches, other snacks, fresh cut fruit ), free use of kayaks or paddle boards ( please inquire before !!!! ) The full day private tour also includes a full BBQ LUNCH on a secluded beach. Depending on the boat, it also includes Chicken Brochettes, Rice Salad, even Shrimps.
Departures:
Daily departures. Please advice a few days in advance the latest. During the High Season advanced reservations are suggested ( not required )
Morning Departure: 8 – 12 Noon
Sunset Sailing: 2 – 6 PM
Full Day: 10 – 6 PM