Sailing from El Coco, Guancaste – Private charters
A private sailing trip from El Coco is an excellent activity for those who look forward to seeing the more natural and scenic coastline in Guanacaste, as well as enjoying beautiful water activities, including snorkeling, paddle boarding and exploring secluded remote beaches, islets and reefs.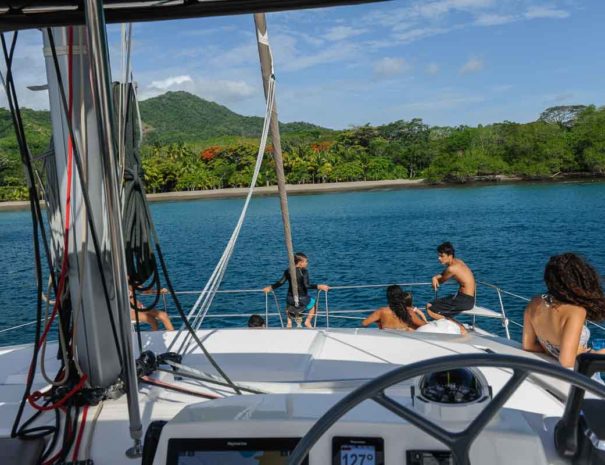 El Coco is located in an area in Guanacaste with little to no waves, therefore, sailing is one of the best activities you can book once in El Coco.
Additionally, we have several catamarans and sailboats serving the area and our clients can chose from different models we own.
Private sailing charters from El Coco
Half day morning charter
The 4 hour morning trip begins at 8 in the morning and ends by 12 o clock.
This trips includes 4 hours of real sailing, great onboard service, drinks, food items and also activities like snorkeling and paddle boarding. The highlight Is visiting a secluded beach in the region, where once again, you will be able to swim, snorkel or paddle board.
Sunset sailing charter
The sunset charter is 4 hours of sailing and exploring the beautiful Guanacaste coastline. Snorkeling near a rocky reef, paddle boarding or swimming in the calm waters and enjoying the sunset upon return are some of the main highlights.
Like the morning trip, this includes drinks, light food items, paddle boards and snorkeling gear. A visit to a remote pristine  beach is the highlight of the trip.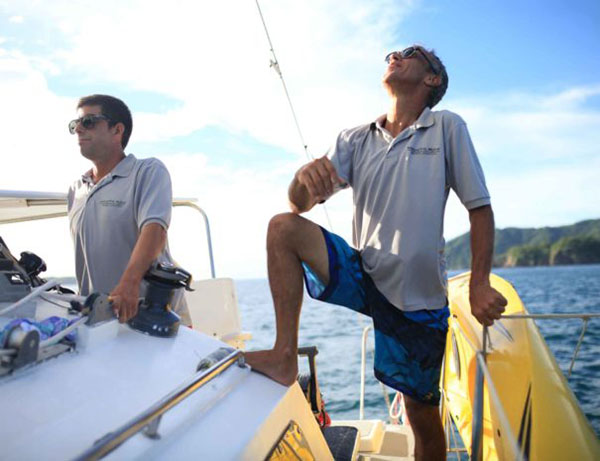 Private full day sailing
The Full Day Charter departs at 10 am and returns by 6 pm, just by the time the amazing sunset begins.
This full day 8 hour sailing trip includes paddle boards, snorkeling, fishing rods, open bar, food items, a full lunch and a custom designed sailing trip along the coastline of Guanacaste.
All tours include:
The best sailboats and catamarans
Service oriented crews
Custom designed trips
Snorkeling
Paddle boarding
Visiting a secluded beach in the Papagayo Peninsula
Snacks and light food items
Open bar and music sound system to play your own music
El Coco Beach Guanacaste
El Coco Beach in Guanacaste is a different tourist destination, since contrary to most places, it is actually a real fishermen village, that has existed for several decades.
Therefore, one can enjoy the rural Guanacaste lifestyle, while still enjoying the comfort of the hotel or vacation rental villa where you are staying at.
There are several restaurants, bars and tour operators in El Coco, and although the beach is dark and not one of the nicest, the fact that you have the cultural part too, enhances the beach vacation experience.