Tamarindo is one of the most popular beaches in the province of Guanacaste
Tamarindo is one of the most popular beach destinations in Guanacaste, actually, perhaps the most well known destination in the province among locals and foreigners alike.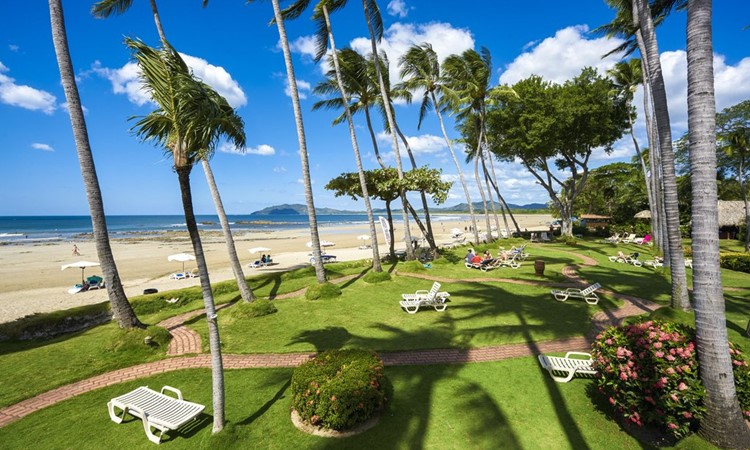 It was first discovered as a tourism destination in the 70´s, when it was still a small and authentic fishermen community, with nothing more than a few homes distributed along the beach street.
In the 80´s, it grew with some cabins and smaller rustic hotels, which also made it possible for some smaller bars and restaurants to start.
Hotel Tamarindo Diria and Cabinas Pozo Azul were among the first accommodation options to be born.
During the 90´s with the exponential growth of tourism, more and more hotels and cabins began, and by then, Tamarindo was already quite known among locals and also some foreigner tourists, including several travel agencies.
Today, Tamarindo has become something beyond a small beach community, it is nowadays actually a very busy and developed beach community, with dozens of bars, discos, hundreds of accommodation options, including some five star beach hotels like Tamarindo Diria, Capitan Suizo, El Jardin del Eden, 8 Artisan Bungalows, Cala Luna and many more.
The development has even reach Playa Langosta, the neighboring beach, which until the 90´s was basically undeveloped.
Tamarindo Beach
One of the most appealing highlights in Tamarindo is definitely its long, sandy and clear beach, which offers great surfing, but is also ideal for bathing, swimming, boating and sailing.
During the low tide, one can also snorkel in the rocky pinnacles located towards the southern end of Tamarindo.
During the evenings, Tamarindo turns into a vibrant beach community, with several beach bars and colorful restaurants coming to life.
Las Baulas National Park
Besides its development, Tamarindo also offers nature. The entire community is surrounded by the Las Baulas National Marine Park, which is an important haven for Leatherback Sea turtles, but also many more species, such as birds, reptiles, monkeys, insects and fish.
The Park has been endangered by some developments that have illegally been developed, even within the national park boundaries, but this has been stopped.
The national park offers a big estuary and wetlands, which can be explored by boat. Tourists can also walk along the long sandy beach, crossing the estuary ( after the estuary north, the beach is actually called Playa Grande ) and walk for miles and miles along a secluded sandy beach.