Sailing Four Seasons Papagayo
Come join us for the best private sailing charters from Four Seasons Papagayo, in the beautiful Papagayo Peninsula, in northern Guanacaste.
Our half day morning sailing and snorkeling tour departs at 8 AM and returns around 4 hours later. We will pick you up in front of the main beach ( Virador ).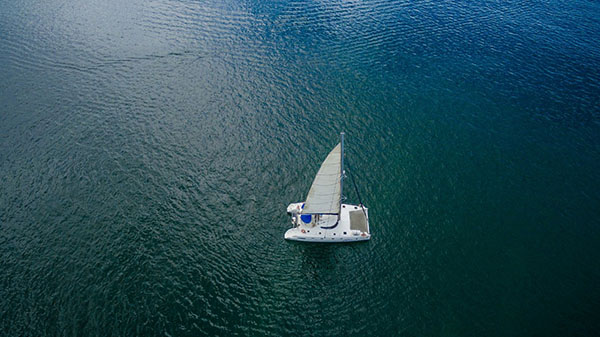 First, we will sail away from shore. Enjoy the Pacific Ocean breeze and the soft movement of the waves.
Our luxury sailboat is equipped with all the necessary equipment for a super comfortable trip.
Spacious salon, with air conditioning, private bathrooms, freshwater showers, bar, kitchen, chart table and abundant seating spot both inside and on deck.
The tour also includes stops at reefs and rocky islets, near secluded beaches, a perfect setting for snorkeling, kayaking or simply rest either onboard or on the beach.
Go swimming, jumping in from deck, or use the snorkeling platform. You can also request paddle boards, a fun activity for while we are anchored in one of the secret spots.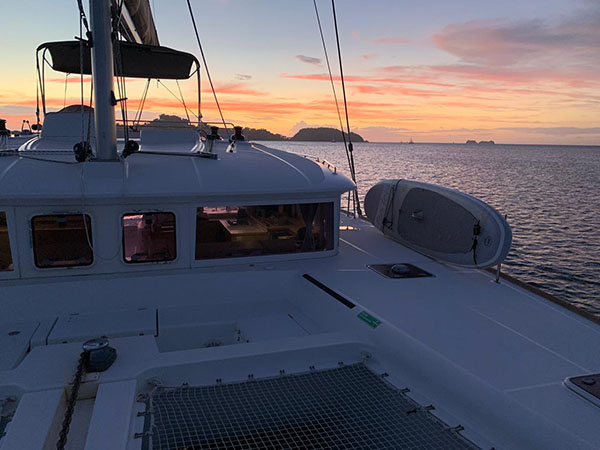 Book the afternoon private sunset sailing trip ! Leaving at 1 30 PM , before the sunsets, you will enjoy plenty of activities in beautiful places.
Snorkel in secluded sites, where rocks, reefs and caverns create the perfect habitat for colorful fish and other sea creatures.
You will also have a chance to practice paddle boarding ( please request in advance ); or go for a short ocean kayaking expedition, while the sailboat is anchored.
The tour includes great food ( snacks, burritos, chips and dips, delicious food, fine liquors, beer, sodas, fruit juice, all prepared in the onboard kitchen and bar.
When the time has come, prepare for some of the most amazing colors you have seen while the sun rapidly hides beyond the horizon.
Return after sunset. This is a sample itinerary, personalized trips can be easily arranged, including scuba diving.
If you are a sailing enthusiasts, and also a bit of an adventurer and explorer, then request our customized full day sailing tour.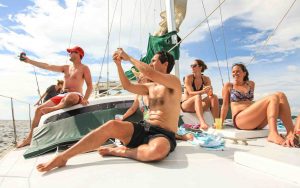 Out of the Four Seasons Papagayo, we can reach many incredible destinations, pristine and secluded, in a 8 – 9 hour time frame.
Explore the Murcielago Islands, Catalina Islands, the Gulf of Nicoya, rocky pinnacles, secret spots, white sand beaches, tiny romantic coves and many more.
Full service onboard includes great food, unlimited beer, drinks, fine liquors, bottled water, fresh cut juice, snacks and a delicious fresh prepared lunch.
Extra activities while anchoring on a secluded beach or near a rocky islet includes, snorkeling, paddle boarding, ocean kayaking or simply jumping into the water for as many times as you want, either from deck or using the spacious snorkeling and scuba platform.
We can even include scuba diving with additional charge. Enjoy watching occasional dolphins, even whales, sea turtles, all this surrounded by unmatched tropical and natural beauty. After the fantastic sunset, we will slowly return to the hotel.
The spectacular Four Seasons Papagayo is perched on a private Peninsula overlooking the ever blue Gulf of Papagayo on the South side, and the open Pacific Ocean and the Northern Coast of Guanacaste on the other side, with beautiful beaches on both sides.
The rugged, abrupt and dramatic coastline create the perfect setting for sailing adventures, with abundant secluded beaches, rocky islets and pinnacles and simply breathtaking views everywhere.
Tour details
Price: From 750 U$
Contact us for a quote
PLEASE INDICATE THE NAME OF THE HOTEL or BEACH you wold like to get picked up since RATES and DETAILS change a little bit depending on that information.
Included:
Snorkeling gear, fishing rods for trolling, drinks ( alcoholic beverages and liquors, beers, sodas, juice, water ), snacks ( chips and dips, sandwiches, other snacks, fresh cut fruit ), free use of kayaks or paddle boards ( please inquire before !!!! ) The full day private tour also includes a full BBQ LUNCH on a secluded beach. Depending on the boat, it also includes Chicken Brochettes, Rice Salad, even Shrimps.
Departures:
Daily departures. Please advice a few days in advance the latest. During the High Season advanced reservations are suggested ( not required )
Morning Departure: 8 – 12 Noon
Sunset Sailing: 2 – 6 PM
Full Day: 10 – 6 PM