Private Boat Charters in the Gulf of Papagayo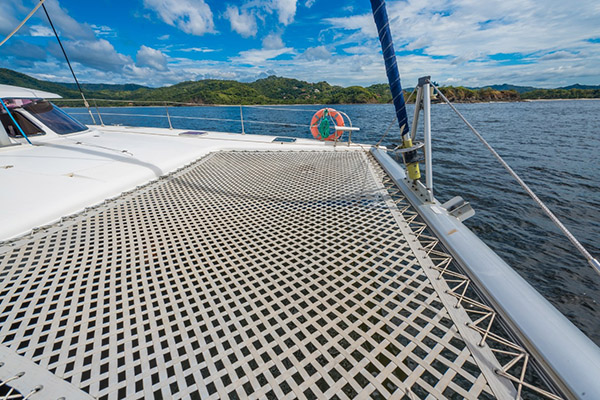 Sailing in the  Gulf of Papagayo in northern Guanacaste is perhaps the best sailing location in Guanacaste and in all of Costa Rica.
The beautiful gulf, located in front of the Papagayo Peninsula is well known for calm waters, abundant wildlife and breathtaking views of the Pacific Ocean.
Private sailing charters
For clients staying at any of the hotels and resorts in the Papagayo Peninsula or adjoining beaches, including Four Seasons Papagayo, Exclusive Resorts, Andaz Papagayo, El Mangroove, Playa Hermosa, Secrets Papagayo, Planet Hollywood and El Coco, Ocotal and Riu, these waters are definitely the best for a fun half day or full day sailing experience.
Half day trips
We offer private half day sailing charters in the morning or in the afternoon, depending on the wishes of the clients.
Both tours include the same, from open bar, food items, snorkeling, paddle boarding and you also get to visit one of the many secluded beaches in the Papagayo Peninsula.
The morning tour departs by 8 30 am and returns around 12 30, while the sunset tour departs at 2 and returns by 6 PM, so you get to see the sunset.
Full day sailing
The Full Day sailing charter is for those who wish to enjoy a full ocean experience, ranging from 10 am to 6 pm, including a rich and delicious fresh lunch, normally served on or nearby a secluded beach in the Papagayo Peninsula.
Whales, dolphins and more
During the months of August to October, and again from January to February, it is possible that you might encounter humpback whales, which come north of south to the warm waters of Costa Rica.
Besides whales, you might also encounter dolphin species, several of which are quite common to be seen swimming along the catamaran or sailboat.
Charters includes:
Areas where we operate
– Papagayo Peninsula
– Papagayo
– El Coco
– Ocotal
– Flamingo
– Conchal